Information och tips om touring i Europa
Reselänkar / Weblinks for travelling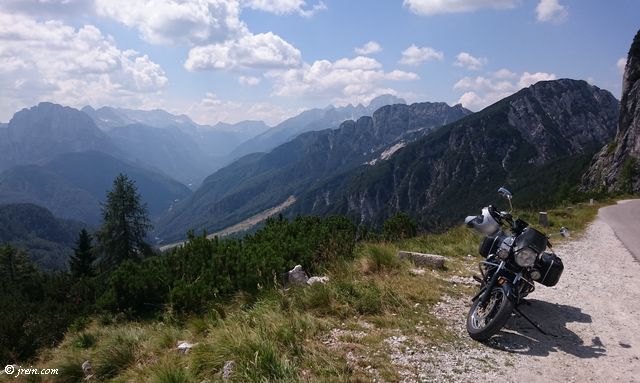 Lämna gärna ett litet bidrag för att stödja mitt arbete. Swish +36307851188 Tack så mycket!
Website-Index:
Reselänkar - Weblinks about Travelling (den här sidan! - this page!)
Nationella turistsidor - National touristboards
Ruttplanering - Route Planning Tools
Tyska temavägar - German themed routes
Alla möjliga Kartor - Maps of all kinds
På den här sidan / on this page
Regler för körning utomland - Riding abroad
Websidor om turing - Websites on touring
Sidor från Norden - Sites from Scandinavia
Riding abroad, Rules for different countries/ Regler för körning utomland
Highway vignettes and tolls in Europe / Vägtullar och Vignette i Europa
Traffic rules overview by European Comission / Info om trafikregler i EU-länderna Traffic rules overwiew by European Motorcyclist's Association
Are you allowed to drive your bike here? Information on French "green zones" / Info om de franska "Gröna Zoner"
Websites on Touring and Accomodation (in alphabetic order):
Alpenportal
German site with a lot of information about the Alps.
Tysk sida med mycket information om Alperna.

Alpen-Pass
Official Swiss site with traffic-information on swiss alps-passes, opening times, accomodations and happenings.
Officiell schweizer sida med trafik-info för alp-passerna, öppettider, övernattningar och föranstaltningar.

Alpenpässe
Trafic information on alpine roads an passes.
Trafikinformation för alpvägar och pass.

Alpenrouten,
German site with waypoints and tracks in the alps.
Tysk sida med waypoints och tourer i alperna.

Alpine roads
Biking in the alps, passes and routs.

Bayernatlas
Bavarian map with cottages and hostels (among others)
Bayersk karta över stugor och vandrarhem (bland annat)

Bed & Breakfast
Site with B&B worldwide
Sida med B&B över hela världen

Berlin Hotelverzeichnis
All kinds of accomodations in Berlin
Alla arter av övernattningar i Berlin


Bergwelt Südschwarzwald
Touristside for the southern part of Schwarzwald (Germany) with lots of information on the area and accomodations
Turistsida för södra Schwarzwald (Tyskland) med mängder av information om området och övernattningar.

Best Biking Routes,
Lots of biking routes from all over the world.
Många fina mc-vägar från hela wärlden

Bikerbetten,
German site with lots of events, routs and accommodations for biker. There is even an app for Android and I-phone.
Tysk sida med mängder med evenemang, tourer och övernattningar för biker. Finns ävenen app för Android och I-phone.

Biker Hotel Guide
Site with a lot of bikerfriendly accomodations in Europe.
Sida med bikervänliga övernattningsställen

Biker Motorrad Hotel
Site with biker-accomodations and happenings all around Europe..
Sida med biker-övernattningar och träffar i hela Europa

Bike Sachsen
Everything about motorbikes and biking in Sachsen/Germany.
Allt om mc och biking in Sachsen/Germany.

Biker-Treff
German site about biker meetings, meeting places, touring and accomodations.
Tysk sida om träffar, mötesplatser, touring och övernattning för biker.

Bikerwolke,
Infomation on meetings in Germany and even the rest of Europe.
Information om träffar i Tyskland och även övriga Europa.

Camping info
site with over 23000 campsites in Europe.
Sida med över 23000 campingplatser i Europa

Dangerous Roads
Lots of scenic roads all around the globe
Mängder av fina vägar och pass från hela världen.

European Touring Route
A motorcycle route through Europe from Nordkap to Gibraltar
Mc route genom Europa från Nordkap till Gibraltar.

Fema Federation of European Motorcyclists' Associations
FEMA's purpose is to promote, protect and preserve motorcycling.
Lobby- / Intresseorganisation för motorcykelåkandet.

Ferienstrassen
German website with lots of routes from all over the world.
Tysk sida med vägar från hela världen.

GPS-Tour,
Community website (about 270.000 users) with european routs for motorbike, mountainbike, bicykel, hiking and riding.
Community websida (nästan 270.000användare) med tourer för mc, mountainbike, cykel, wandring och ridning.

Guzzisti.de
German MotoGuzzi site with lots of information, (even meetings).
Tysk MotoGuzzi sida med mycket information (även träffar).


Hostelsclub
Hostels and cheap accomodations
Vandrarhem och billiga övernattningar


DJH Jugendhergen
German hostels
Tyska vandrarhem

Kurveneldorado, (on Facebook)
More than 30 alp-passes within 150 km radius with lot of driving fun and amazing views. Site with tours and accomodations in the alps.
Mer än 30 alp-pass inom 150 km radie med mycket körglädje och underbara vyer. Tysk sida med alptourer och hotell.

Kurvenkönig
Wonderful touring and good accomodation in Germany and the alpine region.
Underbara touringförslag och bra övernattningar i Tyskland och alpregionen.

Mom Goes Camping
Site about camping and information on wild camping in Europe
Sida om camping och information om vild camping i Europa

Motorbike Europe
Roads, Tours, Events, Accomodations

Motorrad.de
Online community and lots of links.

Motorcycle Travelguide
Worldwide motorcycle tours and rental platform

Motorradstrasse Deutschland
Routs and accomodations in Germany and the alps
Rutter och övernattningar i Tyskland och alperna


Mototourismo
Great italien magazine with lots of nice tours in Italy.
Italiensk touringtidning med många fina turer i Italien.

Na Wohin,
Austrian site with pretty good informatin on both routes and meetings.
Sida från Österrike med bra information om fina vägar och träffar.

Pässe
Great german site about passes, not only in the Alps.
Bra tysk sida om pass, inte enbart i alperna.

Pässeknacker
Site about alpine passes and tours
Sida om alppassen och tourer

Ridersguide
Lots of information on everything about touring. routes, accommodations, meetings in Germany and alpine region.
Mycket information om touring. Fina vägar, bikerhotels, träffar i Tyskland och alpregionerna.

Routes to go
Great site about roads, routes and accomodations.
Bra sida om vägar, router och övernattningar

Streckensperrung
Map of blocked roads for motorbike in Germany
Karta över för mc spärrade vägar i Tyskland

TET-Transeuropean Dirt Trail
"A cultural dirt road adventure from deep within the Arctic Circle to the doorstep of Africa ...and back."
Grusäventur från norr om arktiska cirkeln till afrikas gräns


The Biker Guide,
Great english site with a lot of information not only from the UK .
Mycket bra engelskt sida med mycket information inte bara från Stor Brittanien.

Tourenfahrer Hotels
More than 500 Bikerhotels in Europe
Över 500 Bikerhotell i Europa

Tourstart
A web site focusing on easy sharing of adventures on the internet for motorcyclists.
Websida för mc-åkare att bl.a. kunna dela sina äventyr

Wild camping in Europe
Site about the legal status of camping wild in European countries.
Sida om de rättsliga läget angående wild camping i Europa.
Websites from Scandinavia
Alla Rum
Swedish site about Bed&Breakfast, hostels, cheap hotels, rooms, accomodations, weekends and more..
Svenska Bed & breakfast, vandrarhem, billiga hotell samt pensionat, logi, rum, stugor, billiga boenden, övernattningar och weekend!
B&B Hälsingland
Swedish site from Hälsingland with accomodation and "what to do"
Svensk sida från Hälsingland, B&B och "att göra"
Bikersstop ( Facebook)
Site for travelling Sweden by bike. Routs, meetingplaces and accomodation.
Sida för sverigeresor med mc. Vägar, möten och övernattningar.
Camping.se
Campsites in Sweden
Svenska Campingplatser
Chopperweb
Norwegian site with addresses to motorcycle-clubs in scandinavia
Norsk sida med adresser på mc-klubbar i skandinavien
Dalarna Malung Sälen Turistinfo
Swedish tourist site from Dalarna.
Svensk turistsida fraån Dalarna.
Danhostel
Hostels in Denmark
Danska Vandrarhem
Faerge
Ferries in Denmark
Färjor i Danmark
Frie Campingpladser
Campsites in Denmark
Campingplatser i Danmark
I Natur
Norwegian site about outdoor activities and accomodations
Norsk sida om friluftsliv och stugor
Kopparleden
Swedish site about "Copper-route", an historik route running between the two old copper mining towns Røros in Norway and Falun in Sweden.
Svensk sida om "Kopparleden, den 40 mil långa historiska väg som går mellan de två gamla kopparstäderna Røros i Norge och Falun i Sverige.
Laavu.org
Finnish site on free shelters in Finland
Finsk sida om vindskydd i Finnland
Loos Hälsingland & Orsa Finnmark
Swedish homepage from Loos with accomodations in the area.
Loos hemsida med info om B&B, campingplatser m.m
Margueritrutten
Route of beautiful roads through Denmark. GPX-file and more is here
På underbara vägar genom Danmark.GPX-fil m.m. finns här
MC-Touring Norway (Facebook)
About scenic roads in Norway
Om fina mc-vägar i Norge
Norske Vandrerhjem
Norwegian site with hostels in Norway and around the world!
Norsk sida med vandrarhem i Norge och över hela världen!
Retrovägen
Swedish site about retro style places from the 50s 60s and 70s along the road.
Svensk sida om retro ställen från 50-, 60 och 70talet längs Retrovägen.
Statens vegvesen
Norwegian official site with traffic information for Norway
Norska trafikverkets sida med trafikinformation
Tidernas väg
Swedish historic route between Uppsala and Ånge
Historisk väg mellan Uppsala och Ånge
Touristmål Sverige
Swedish tourist-site with a lot of attractions, activities and accomodations. Pretty good route-planner.
Svensk sida med sevärdheter, nöjen, aktiviteter och boende. Bra reseplanerare.
Trollstigen Norway
Amazing Norwegian tour.
Faszinerande tur i Norge
UD I Naturen
Danish site about the danish outdoors inkluding map for campers
bra sida om dansk friluftsliv med campingkarta
Vandrarhemskartan
Swedish site about hostels, camping, sightseeing and more.
Svensk sida med vandrarhem, campingplatser, sightseeing och mera.
Vildmarksvägen
A route in northern Sweden
En rutt i norra Sverige

Wild Camping in Denmark
Rules and map about wild camping in Denmark
Regler och karta över områden där vild camping är tillåtet
jag är tacksam för ett litet bidrag för att hjälpa mig hålla webplatsen igång.
Paypal (länk nedan) eller Swish +36 307 851188
Tack så mycket för ditt bidrag!
//Jürgen
Please donate